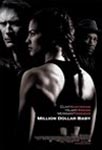 This year, the 77th Oscar, Clint Eastwood and his "Million Dollar Baby" became the biggest winners. Not only Eastwood, Hilary Swank and Morgan Freeman also got the recognitions on stage. It is a little bit out of my predictions. Annette Bening defeated by Swank again and her popularity in Hollywood is unexpectedly unhelpful. As I said in "
Time for Oscar
" a month ago, "The Aviator" seemed to be the biggest winner but now a number of statuettes went to the hands of Clint Eastwood and his controversial baby. Probably, Scorcese has to continue his work, otherwise he has to get the Lifetime Achievement Award only...
It is not a bad result, at least Clint Eastwood is an old but exceptional horse, and he is still in a top form. Indeed, he started to direct since 1971's "
Play Misty for Me
". I would not forget his "
Unforgiven
" (1992): it is matchable to name as a classic in 1990s after ripe development and revisions of the western genre by noteable directors like John Ford, Sergio Leone, Sam Peckinpah etc. Now, Eastwood's second little gold man would assure his bargaining power in dealing with Warner Brothers (he was not too satisfied with the cooperation). I would watch Oscar tonight, hope it is a good show.
Best Film - Million Dollar Baby (not The Aviator)
Director - Clint Eastwood (not Martin Scorsese)
Actor in a Leading Role - Jamie Foxx (correct)
Actress in a Leading Role - Hilary Swank (not Annette Bening)
Actor in a Supporting Role- Morgan Freeman (correct)
Actress in a Supporting Role - Cate Blanchett (correct)
Foreign Language Film - Mar adentro (correct)
Original Screenplay - Eternal Sunshine of the Spotless Mind
Adapted Screenplay - Sideways
Animated Feature Film - The Incredibles (not Shrek 2, how could I get it wrong?)